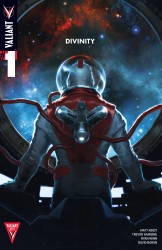 Divinity #01
From the New York Times best-selling writer Matt Kindt (Valiant, mind MGMT) and blockbuster artist Trevor Hairsine (X-Men: Deadly Genesis) comes a shocking new vision of science fiction in an entirely new format limited edition prestige.
At the height of the Cold War, the Soviet Union - is determined to win the space race at all costs - the green light is dangerous advanced mission. They sent a man further into space than anyone has gone before or since. Lost in the Stars, he ran into something unknown. What ... changed it.
Long thought lost and erased from the history books, he suddenly returned, crash landing in the Australian glubinke.Neskolko who were able to reach him to believe that he is a deity - the one who turned the parched desert into a lush oasis. They say he can bend matter, space and even time to his will. The Earth is going to meet the new god. And he was a Communist.
How long will it be before the first encounter between humanity and divinity?