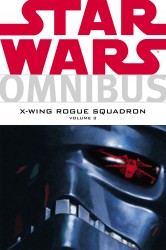 Star Wars Omnibus - X-Wing Rogue Squadron Vol.3
Dark Horse publisher
Pages: 357
2007 year
English comics
Size: 392.8 mb.
The greatest fighter galaxy fly again in a mission to return the galactic capital of Coruscant from the Empire! If this becomes the high point of the New Republic or its dark defeat lies squarely on the shoulders of Wedge Antilles and his team ace X-Wing pilots-Rogue Squadron!
In full color on high quality paper for an unbeatable price, this massive volume contains issues # 21-35 of the X-Wing Rogue Squadron, covering "In the Service of Empire," "Making of Baron Fel," "Family Ties," "Masquerade" and "mandatory retirement. "
Follow the growth of deadly pilot Empire Baron Fel, admire the machinations of imperial power players Ysanne Isard, and discover the fate of the Interim-Emperor Sate Pestage in the book, which collects one of the most epic saga Star Wars in a single volume for the first time!