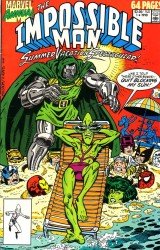 The Impossible Man Summer Vacation Spectacular #01-02 Complete
Collections / Marvel publisher
Pages: 2 issues
1990-1991 year
English comics
Size: 17.7 mb.
Impossible family decided to go on vacation ..... Earth.
Impossible people suffering Spider-Man followed Dr. weird. Then he gets almost killed Punisher . He finally decides to relax and play golf with the Epcot ball at Disney.
Impossible woman attempts to get Quasar to help fix her broken child , but when he can not help it receives Madcap take his place , which eventually makes Quasar act as crazy as they do. Impossible Man then goes to show the death of a wasp .
Meanwhile, children are plagued by those who definitely is not used for children's games - Doctor Doom .
Impossible woman has had enough children , and they go to Earth , meet on Titan and fly to play a few games with the Skrulls .