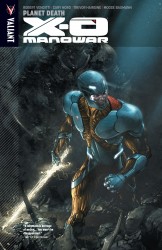 X-O Manowar Vol.3 - Planet Death
Valiant publisher
Pages: 155
2013 year
English comics
Size: 216.5 mb.
Invasion here - and XO Manowar is an occupant! From superstar creators Robert Venditti, Cary Nord and Trevor Hairsine, hop aboard one of the most ambitious series of the year, as XO Manowar lights interstellar war and changing the landscape Valiant universe forever!
Aric Dacia, in the fifth century Visigoth, armed with the most powerful weapon of the universe, is all that stands between the Earth and the total annihilation at the hands of an alien race that kidnapped him from his time. Now the day of reckoning Arik operations finally came. Like his ancestors Visigoth sacked Rome, Arik take the fight directly to his oppressors on the vine native loam. He will destroy their army, he will align their city - and he will not stop until all of their empire is not reduced to ashes. This PLANET death!
Collection of full PLANET DEATH saga from XO MANOWAR # 9-14 New York Times bestselling author Robert Venditti (Green Lantern, surrogates) and superstar artist Cary Nord (Conan) and Trevor Hairsine (X-Men: Deadly Genesis), start reading here to find out why one person revenge mission XO Manowar has IGN ads "XO Manowar still kicks butt. Bring on the planet of death."