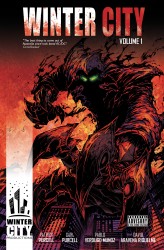 Winter City Vol.1 - Every Sin Has a Price
Other publisher
Pages: 147
2014 year
English comics
Size: 292.8 mb.
Billionaire business man and philanthropist Alan McLean, brutally murdered, and in the comfort of your own home. Murder detectives Janet Harvey Daniels and Marshall are delu.Situatsiya immediately takes a strange turn when a neighbor says he saw Grim Reaper in the yard Alan McLean before the murder.
Every night, and the snow falls heavily on the city, the more affluent elite killed by ruthless killers Grim Reapers. Anyone foolish enough to interfere in the mission killers slaughtered without prejudice. And Harvey Daniels, with little evidence, no apparent connection and a rising number of murders, desperately searching for clues that might reveal the identity of the masked executioner.
As detectives closer to solving the mystery, and capturing winter city reaper, the line between good and evil, heaven and hell, truth and justice is becoming increasingly blurred. What is more sinister and disturbing: Grim Reaper killer or to cruel and greedy world that created it?