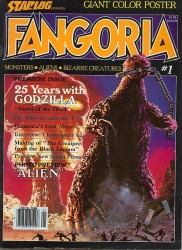 Fangoria (1-285 series)
Collections / Magazine publisher
Pages: 285 issues
1979-2015 year
English comics
Size: 14000 mb.
FANGORIA was first planned in 1978 under the name FANTASTICA, as a companion to the science fiction media magazine STARLOG. Just as STARLOG covered science fiction films for a primarily teenaged audience, FANTASTICA was intended to cover fantasy films for a similar readership. The publishers were anticipating a groundswell of interest in that genre owing to plans, first announced in 1978, to bring Robert E. Howard's Conan the Barbarian to the screen. The CONAN film did not arrive until 1982—and before FANTASTICA was even launched, other factors intervened to change the magazine's focus and direction.